About Penticton
Learn more about Penticton and the amenities available
Slap on the sunscreen and roll out your beach blanket! It's hard to refuse the Sandy Beaches of Penticton when they call. Located at the southern tip of Lake Okanagan and the northern tip of Skaha Lake, Penticton is a beach lover's paradise. Nestled between two lakes, Penticton is well located to provide cool relief from the warmth of the summer sun.
The local lakes attract visitors and locals alike with some of the best waterskiing and parasailing adventures in British Columbia. If you prefer something a bit more relaxed, take an hour or two and experience the channel floating tube rides.
Our Suggestions

Mark Walker,
Owner
Salty's Beach House
"In my opinion Salty's Beach House is the best restaurant in Penticton."

Located lakefront at 1000 Lakeshore Drive in Penticton, BC - Salty's Beach House has been a favourite stop for seafood of both locals and tourists for years. Decorated with Island mementos this a hot spot day or night.

Ian Atkinson,
Technical Coordinator
Skaha Beach
"No trip to Penticton is complete without an afternoon at Skaha Beach, plus the water is warmer then Lake Okanagan."

Located on the South side of Penticton, Skaha Beach offers plenty of shaded areas, a concession stand, boat & jetski rentals as well as childrens waterpark.

Christine Sullivan,
Reservations Agent
Channel Float
"A great way to beat the summer heat is to spend the afternoon floating down the Penticton Channel."

The Penticton Channel connects Lake Okanagan and Skaha Lake during the summer months and provides a gentle 90 minute ride from Riverside Park to the end. You can either bring your own floatation device or rent one for a small fee. A return bus ride is also available for a small fee.
Getting Here
Penticton is located in the Okanagan Valley region, between Vancouver, BC and Calgary, AB on Highway 97, approximatley 65 km north of the Canada/United States border.
Kelowna International Airport is the closest major airport and the 10th busiest airport in all of Canada, offering daily flights to Seattle, Vancouver, Calgary, Edmonton and Toronto. Available airlines include Jazz, WestJet, Air Canada, Horizon Air (Alaska), Harmony Airways and Regional 1 Airlines.
When flying into Kelowna taxi, shuttle and car rental services are available inside the terminal.
Location
Latitude: 49.5
Longitude: -119.58
By Car
Penticton is located 420 km East of Vancouver: Hwy 1 East to Hope. Follow either Hwy 5 North, connect to Highway 97 and follow to Penticton, or Hwy 3 direct to Penticton.
or
670 km West of Calgary, AB: Via Highway 1, the Trans Canada Highway connects to Highway 97A South and Highway 97 South though Vernon, Kelowna and arriving in Penticton.
By Air
Kelowna International Airport is the closest major airport and is serviced by many of the top Canadian airlines — Jazz, WestJet, Air Canada, Horizon Air (Alaska), Harmony Airways and Regional 1 Airlines. These airlines are partnered with many international carriers and fly non-stop to Kelowna daily from Vancouver, Toronto, Victoria, Calgary, Kamloops, Edmonton, Red Deer, Lethbridge and Seattle.
Distances
Calgary, AB - 668 km
Vancouver, BC - 443 km
Kamloops, BC - 239 km
Vernon, BC - 117 km
Kelowna, BC - 65 km
Things To Do In Penticton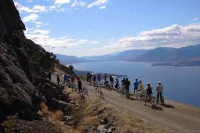 Biking
The Okanagan Valley provides excellent terrain for mountain biking and trail riding. Penticton is no exception with an excellent selection of easy to advanced riding terrain. For cross-country riders make sure to check out Campbell Mountain which offers many challenging routes from summit to base, while downhill riders will enjoy the intersecting free ride trails and 4000 feet of vertical available at Peat Bog.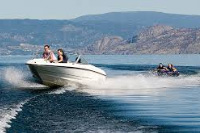 Boating
Penticton is the perfect place to spend a day on the boat. Locked between two lakes, the city features many rental locations where guests can setup daily or weekly boat rentals. More popular ways to enjoy the lake include waterskiing, wakeboarding or jet skiing. For all of you're Boat Rental needs ask your reservation agent when booking accommodations.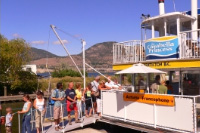 Cruises
Casabella Princess Cruises offers exciting and scenic cruises on Penticton's historic paddle wheeler. Contact them for special events and dinner cruise schedules.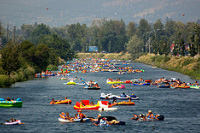 Channel Floating
A favourite activity of both locals and tourists, float down the river channel which flows between Okanagan and Skaha Lake. Tube rentals are available on-site and transportation back to your vehicle is optional. Make sure to bring your sun screen and a bottle of water as you will be on the water for at least an hour.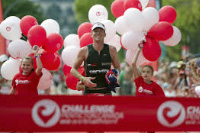 Festivals
Penticton is home to several annual festivals that attract people from all over Canada and the United States. Peachfest has been a tradition since 1947 offering 5 days of live entertainment, singing, dancing, fireworks and parades. The Okanagan Spring Wine Festival provides patrons with 4 days of festivities in all of the Okanagan cities. Another major event is the Penticton Challenge Triathlon which is held every August challenging competitors to a 3.8 km swim, 180 km bike ride and 42 km run.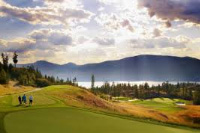 Golf
With one of the longest golf seasons in Canada, Penticton has no shortage of fairways, boasting seven championship courses within easy driving distance. Enjoy the desert landscapes and beautiful vineyard views from any of these spectacular courses. Make sure to book your tee times early, as during the summer months it can be very busy.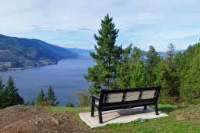 Hiking
The natural landscape of the Okanagan Valley make Penticton a great place for hiking. Brent Mountain provides excellent trails and stunning views of the Monashee Mountains, while the Okanagan River Channel features a paved path from the south side of Highway 97 all the way to Skaha Lake.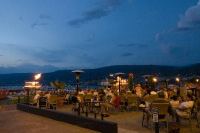 Nightlife
Downtown Penticton offers plenty to do after hours with a variety of restaurants, pubs and night clubs. One of the most popular night clubs is The Blue Mule, which has great drink specials and is sure to entertain all summer long.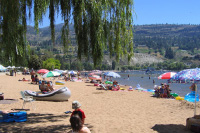 Parks & Beaches
Bordered by two lakes, the city of Penticton has some of the best beaches in the valley. Okanagan Lake offers a large stretch of family beach along Lakeshore Drive which is populated by many interesting restaurants and shops. On the other side of town, Skaha Beach offers s beautiful stretch of sand, warm water and plenty of activities such as volleyball courts and bike rentals.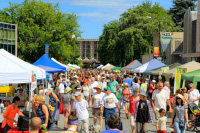 Shopping
With more then 400 stores and shops in downtown Penticton, you are sure to find the perfect souvenir. There are two major malls in town, each provide a nice air-conditioned break from the summer heat. Make sure to browse the Front Street area as it houses many unique boutiques and specialty shops.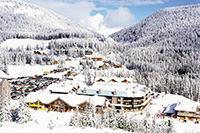 Skiing & Snowboarding
Apex Mountain Resort is only a short 20 minute drive from Penticton. With an average snowfall of nearly 20 feet per year, your family is sure to enjoy all the local attractions such as outdoor skating, snowmobile tours, snowshoeing, and the Tim Hortons Tube Park.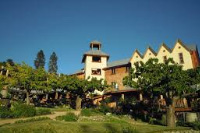 Wineries
Known internationally for spectacular vineyards and producing award winning wine, the vineyards surrounding Penicton and area are a must see for any visitor. Many of the most popular wineries such as Hillside, Poplar Grove and Red Rooster offer guided tours, wine tastings and gift shops full of specialty wine products. Several local companies offer bus tours which stop at multiple wineries and offer lunch at one of the beautiful estates.
Quick Inquire For Available Properties
*Consent to email to receive information on accommodations from OVHR.
You may unsubscribe at any time.