About Osoyoos
Learn more about Osoyoos and the amenities available
Slap on the sunscreen and get ready for a true summer experience!
There is plenty to see and do in Osoyoos. Bring the whole family! Everyone including teenagers and toddlers will have a fun time making Osoyoos your ideal vacation spot. If you love being amongst nature, you'll love Osoyoos. As Canada's only desert, there are some extraordinary places to visit. Enjoy the opportunity to see many rare animals such as endangered owls, tiger salamanders and badgers as well as enjoy plants and scenery that can not be found anywhere else.
Osoyoos is always buzzing with exciting things to do. From festivals to dances, families will be fully entertained on their vacation. Take part in the Okanagan's annual Spring Wine Festival, or spend the afternoon at one of the many world class golf courses. No trip to Osoyoos is complete without taking part in at least one winery tour and tasting.
Whatever you choose to do while staying Osoyoos, the reservation agents at Okanagan Vacation Home Rentals are here to assist you. We offer the largest selection of Osoyoos Lodging and our knowledgeable staff has first hand experience with all of our resort properties. Call us with any questions you may have about Osoyoos accommodations, local events or anything else you can think of.
Our Suggestions

Ian Atkinson,
Technical Coordinator
Road 13 Winery
"The premium tasting in Road 13's Executive Lounge is, in my opinion, the best wine tasting experience in the Osoyoos area."

Road 13 Vineyards is a family owned and operated winery located between Osoyoos and Oliver, at Highway 97 and Road 13 on the Okanagan Valley's historic "Golden Mile." The winery has a short but colourful past and continually receives ongoing critical acclaim for making wines that many feel are a quintessential expression of Okanagan Valley terroir.

Mark Walker,
Owner
Rattlesnake Canyon Amusement Park
"If you're travelling with children they are sure to enjoy an afternoon of mini-golf and go-karts."

Rattlesnake Canyon Amusement Park is located at 5502 Main Street, a block away from Osoyoos Lake and offers go-karts, mini-golf, bumper boats, rock climbing, an ice cream parlour and more.

Kristina Poynter,
Reservations Agent
Burrowing Owl Restaurant
"Experience Okanagan fine dining from the scenic patio of Burrowing Owl Winery."

Burrowing Owl Estate Winery features a restaurant, gift store and offers a complimentary, behind the scenes, guided tour of the wine making process.
Getting Here
Osoyoos is located at the southern end of Canada's Okanagan Valley directly on the United States border. The city is located 400 km East of Vancouver, or 600 km West of Calgary, AB. If you are travelling from the United States, make sure you have your passport and proper documents for border crossing.
The nearest major airport is located in Kelowna. Kelowna International Airport is the 10th busiest airport in all of Canada, offering daily flights to Seattle, Vancouver, Calgary, Edmonton and Toronto. Available airlines include Jazz, WestJet, Air Canada, Horizon Air (Alaska), Harmony Airways and Regional 1 Airlines.
When flying into Kelowna taxi, shuttle and car rental services are available inside the terminal.
Location
Latitude: 49.0
Longitude: -119.26
By Car
Osoyoos is located 400 km East of Vancouver: Hwy 1 East to Hope. Follow Hwy 3 direct to Osoyoos
or 
600 km West of Calgary, AB: Via Highway 1, the Trans Canada Highway connects to Highway 97A South and Highway 97 South through, Kelowna and Penticton to Osoyoos.
By Air
Kelowna International Airport is serviced by many of the top Canadian airlines — Jazz, WestJet, Air Canada, Horizon Air (Alaska), Harmony Airways and Regional 1 Airlines. These airlines are partnered with many international carriers and fly non-stop to Kelowna daily from Vancouver, Toronto, Victoria, Calgary, Kamloops, Edmonton, Red Deer, Lethbridge and Seattle.
Distances
Calgary, AB - 731 km
Vancouver, BC - 399 km
Kamloops, BC - 298 km
Vernon, BC - 176 km
Kelowna, BC - 123 km
Penticton, BC - 60 km
Things To Do In OSoyoos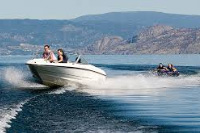 Boating
Osoyoos Lake is the warmest fresh water lake in Canada and the perfect place for you and your family to spend your summer vacation. Osoyoos often experiences temperatures between 30 to 35 degrees Celsius during the summer months and so the lake provides an excellent way to cool off. There are several local companies that rent power boats for wakeboarding, waterskiing and tubing.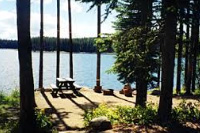 Camping
Camping is a great way to enjoy the beautiful Okanagan valley scenery. There are many campgrounds in and around the Osoyoos area, many with lakefront locations and full service amenities. Nk'Mip Resort Campground offers over 130 lakefront sites and all the amenities you can imagine. Make sure to book your spots early (April 1) as they fill up extremely fast.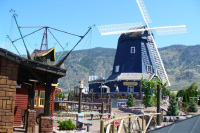 Amusement Park
A family favourite and attraction you won't want to miss is Rattlesnake Canyon, an amusement park that features a western mining theme. With an 18 hole mini-golf course, go-karts, bumper boats and arcade children of all ages are sure to be entertained. Also make sure to visit the Osoyoos Windmill which offers an outside climbing wall, bungee trampoline and ejections seat ride.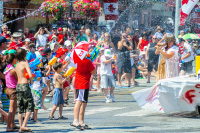 Festivals
Summers in Osoyoos are full of festivals and cultural events. One of the most popular is the Okanagan Spring Wine Festival, which takes place over 4 days in May and offers tourists a chance to sample local artisan's products, tour wineries and bid on items during the annual silent auction. Another popular event is the Osoyoos Cherry Fiesta, a festival which has been running since the 1950's. Take part in all sorts of festivities such as a pancake breakfast, pie eating contest, beer gardens and more. Ask your reservation agent for dates of these and other local events.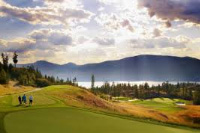 Golf
Osoyoos is home to several world class golf courses. One of the most popular is the Osoyoos Golf & Country Club which offers a 27-hole championship course with three distinct sections including The Desert Course, Park Nine and Meadow Nine. Make sure to book your tee times early as courses can be extremely busy during the summer months.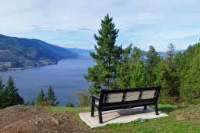 Hiking
Osoyoos offers a variety of hiking and mountain biking trails. A local favourite is Mt. Kobau, which offers a great hike in the summer as well as snowshoeing terrain in the winter. At the summit Mt. Kobau offers a breathtaking view Osoyoos and the surrounding orchards.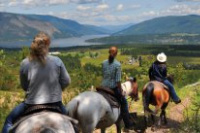 Horseback Riding
With several ranches within a few minutes drive of town, you and your family can experience the beautiful Okanagan scenery on horseback. Some of the ranches also offer pony rides for children and winter sleigh rides. Ask your reservation agent for more details.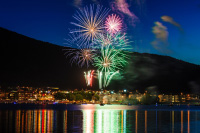 Nightlife
Osoyoos features a great selection of restaurants and local pubs. Stop by The Owl Pub for diner or drinks and a patio with inspiring views of Lake Osoyoos. Another local favourite is The Ridge Brewing Company which has an onsite microbrewery and offers a great selection of local and imported beer.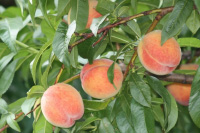 Orchards
World renowned for producing some of the best fruit in Canada, Osoyoos gives you a chance to tour the orchards and in some cases pick your own fruit to take home. All your favourites are here cherries, apples, peaches, pears, plums etc.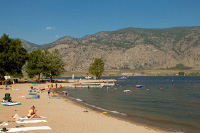 Parks & Beaches
Lake Osoyoos is known as the warmest lake in Canada reaching 26-33 degrees Celsius in August and offering nearly 30 miles of shoreline. There are many parks and public beaches you can visit without travelling far, such as Gyro Beach & Community Park, Kinsmen Park and Lions Centennial Park, all located close to town. A popular attraction is Haynes Point Provincial Park, located 2 km south of Osoyoos, this area is a true desert and the sunny beaches are very popular in the summer months.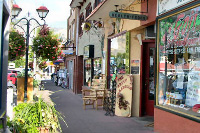 Shopping
The small town of Osoyoos offers all types of shopping including brand name and department stores as well as unique local shops and fruit stands. From May to October the locals operate a Sunday morning market where you can find baked goods, jams, crafts, jewellery and more.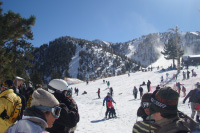 Skiing & Snowboarding
Located only 50 minutes from Osoyoos is Mt. Baldy, a virtually undiscovered resort which is popular for it's untracked powder and excellent tree skiing. With a base elevation of over 5000 feet, the resort is almost always guaranteed snowfalls of up to 20 feet per season.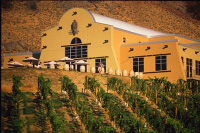 Wineries
Known internationally for spectacular vineyards and producing award winning wine, the vineyards surrounding Osoyoos and area are a must see for any visitor. Nk'Mip Cellars, one of the most popular in the area, produces 15,000 cases of wine a year. Stop by for a tasting and enjoy the beautiful estate and stunning lake views.
Quick Inquire For Available Properties
*Consent to email to receive information on accommodations from OVHR.
You may unsubscribe at any time.