About Kelowna
Learn more about Kelowna and the amenities available
Kelowna boasts all the amenities of a major city - fine dining, unique shops and a vibrant cultural life - yet orchards and vineyards thrive within a 10-minute drive of the downtown core. Spectacular vistas await those ready to explore. A delightful day can be spent sampling the award-winning wares of our numerous internationally-acclaimed wineries, while several championship golf courses draw enthusiasts from all parts of the globe.
Situated on the eastern shore of Okanagan Lake mid-way between Penticton in the south and Vernon in the north, Kelowna residents and tourists alike find the lake offers wonderful opportunities for boating, swimming or fishing. The nearby mountains attract hikers, skiers and outdoor enthusiasts of all descriptions. Three major ski hills are within a one-hour drive.
OuR Suggestions

Eugene Kalmuk,
General Manager
Summerhill Pyramid Winery
"Don't miss Summerhill Vineyard, they offer a great tour of their winery, estate and unique on-site pyramid used to age the wine."

The Summerhill Pyramid Vineyard is comprised of over 80 acres and specializes in organically grown grapes. The semiarid desert of the Okanagan Valley makes the perfect climate for the variety of grapes grown here, while the big draw to visitors is the pyramid structure in which the wine is stored. During the tour many theories are presented as to why the pyramid has an effect on liquids.

Ian Atkinson,
Technical Coordinator
Knox Mountain Park
"For a great view of the city, take a short drive up Knox Mountain. There is a lookout at the summit which gives you a spectacular view day or night."

Knox Mountain is located North of the downtown core and offers an abundance of hiking and biking trails as well as a dog park, tennis courts and picnic areas. To make a day of it, pack a lunch and plenty of water - then follow Paul's Tomb Trail which leads to a secluded park and public beach access.

Shandra Lipkovits,
Reservations Agent
RauDZ Regional Table
"RauDZ is hands down, my favourite restaurant in Kelowna right now."

RauDZ offers a comfortable dining experience and fresh, local cuisine. Make sure to stop by and try one of Kelowna's best restaurants.
Getting Here
Kelowna, British Columbia is the largest city in the Okanagan Valley. The city is located 400 km East of Vancouver, or 600 km West of Calgary, AB. If you are travelling from the United States, the city is 150 km (90 miles) North of the border.
Kelowna International Airport is the 10th busiest airport in all of Canada, offering daily flights to Seattle, Vancouver, Calgary, Edmonton and Toronto. Available airlines include Jazz, WestJet, Air Canada, Horizon Air (Alaska), Harmony Airways and Regional 1 Airlines.
When flying into Kelowna taxi, shuttle and car rental services are available inside the terminal.
Location
Latitude: 49.9 
Longitude: -119.483333
By Car
Kelowna is located 400 km East of Vancouver: Hwy 1 East to Hope. Follow either Hwy 5 or Hwy 3 to Kelowna.
or
600 km West of Calgary, AB: Via Highway 1, the Trans Canada Highway connects to Highway 97A South and Highway 97 South to Kelowna.
By Air
Kelowna International Airport is serviced by many of the top Canadian airlines — Jazz, WestJet, Air Canada, Horizon Air (Alaska), Harmony Airways and Regional 1 Airlines. These airlines are partnered with many international carriers and fly non-stop to Kelowna daily from Vancouver, Toronto, Victoria, Calgary, Kamloops, Edmonton, Red Deer, Lethbridge and Seattle.
Distances
Calgary, AB - 607 km
Vancouver, BC - 391 km
Kamloops, BC - 171 km
Penticton, BC - 64 km
Vernon, BC - 52 km
Things To Do In Kelowna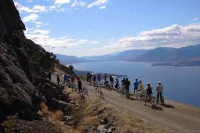 Biking
Whether you are a seasoned trail rider or just looking to spend time with your family, riding in the city, Kelowna has the biking opportunity for you. Put your skills to the test with a moderate to difficult level ride at McDougall Rim, or take in the inspiring lake views from Knox Mountain and the Paul's Tomb Trail. If you prefer to ride on the pavement you are sure to enjoy downtown Kelowna, City Park and Abbott Street which feature a special paved lane just for bikers and rollerblades. Another great location for downhill biking is Silver Star Resort, just outside of Vernon which offers lift services and all the amenities of a mountain village.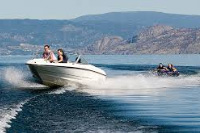 Boating
Lake Okanagan spans 100km making it the perfect spot for water sports. Imagine taking your family out waterskiing, wakeboarding, houseboating or jetskiing everyday of your vacation. Boat Rentals can be arranged by your reservation agent when booking accommodations.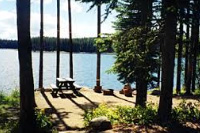 Camping
Surrounded by majestic mountain, deep forests and running steams, Kelowna is a favourite destination for campers each and every year. Bear Creek and Fintry Park are two of the family favourites, each offering space for RVs, campers and tents. Make sure to book your spots early (April 1) as they fill up extremely fast.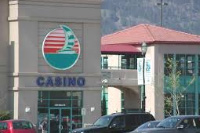 Casinos
Kelowna offers two casinos where you can try your luck on games like poker, blackjack, roulette, slots and bingo. The downtown location is within easy walking distance of the waterfront, entertainment and plenty of great restaurants.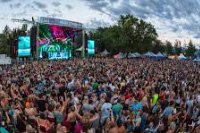 Festivals
Kelowna summers are packed full of festivals and cultural events such as the Okanagan Wine Festival, Wakefest Competition and the Fat Cat Children's Festival which attracts more then 15,000 children and parents each year.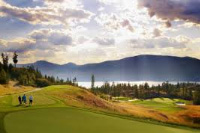 Golf
For golfers there is no better place to stay then Kelowna. Offering more then 14 unique courses in and around the city, each features a mix of desert terrain and both orchard and lake views. One of the most popular courses in the area is Predator Ridge which hosted the Export 'A' Skins Game in 2000. Make sure to book your tee times early.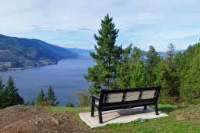 Hiking
With miles of marked trails in every direction, this is a hiker's paradise. There is no better way to experience the natural beauty of the Okanagan Valley then to explore it for yourself. Pack plenty of water and set out to see the sights.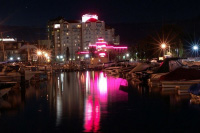 Nightlife
Enjoy the variety of night clubs, pubs and restaurants Kelowna has to offer. The downtown core is home to many of the most popular businesses each of which are within easy walking distance of each other.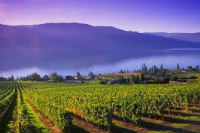 Orchards
World renowned for producing some of the best fruit in Canada, Kelowna gives you a chance to tour the orchards and in some cases pick your own fruit to take home. All your favourites are here cherries, apples, peaches, pears, plums etc.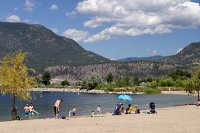 Parks & Beaches
This is why everyone vacations in Kelowna, the hot sun, clear water and miles of beautiful beaches. Families will enjoy the activity of Rotary Park Beach or the children's water park at Hot Sands Beach in City Park. Young adults should stop by Gyro Beach, which is populated by a younger crowd and is always busy with volleyball and Frisbee games.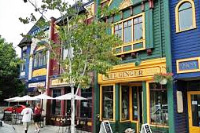 Shopping
From trendy clothing stores and board shops located downtown to unique boutiques throughout the Mission area, there is something for everyone. Orchard Park Shopping Center houses all the large chain stores as well as several restaurants, while many other major outlets are located along Harvey Ave (Highway 97).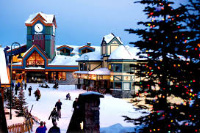 Skiing & Snowboarding
Located only 45 minutes drive from Kelowna is Big White Ski Resort, the second largest resort in Canada. Each year Big White is blessed with more then 24 feet of champagne powder, the light and fluffy snow the Okanagan is so famous for. Big White, known as the "Best Family Ski Resort" in Canada offers 118 marked runs, night skiing, a completely ski in/ski out mountain village.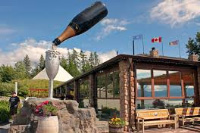 Wineries
Known internationally for spectacular vineyards and producing award winning wine, the vineyards surrounding Kelowna and area are a must see for any visitor. Many of the most popular wineries such as Mission Hill, Summer Hill and Quail's Gate offer guided tours, wine tastings and gift shops full of specialty wine products. Several local companies offer bus tours which stop at multiple wineries and offer lunch at one of the beautiful estates.
Quick Inquire For Available Properties
*Consent to email to receive information on accommodations from OVHR.
You may unsubscribe at any time.